Consolidated Framework for Implementation Research
D and/or I:

The focus on dissemination and/or implementation activities. D-only focuses on an active approach of spreading evidence-based interventions to target audience via determined channels using planned strategies. D=I, D>I, and I>D means there is some focus on both dissemination and implementation. I-only focuses on process of putting to use or integrating evidence-based interventions within a setting.
I-Only
Socio-Ecological Levels:

The level of the framework at which the model operates. Individual includes personal characteristics; Organization includes hospitals, service organizations, and factories; Community includes local government and neighborhoods; System includes hospital systems and government; Policy includes changes in policy.
Individual
Organization
Community
System
Policy
Number of Times Cited:

The # of times the original publication for the model was cited as indicated by Google Scholar since 2016.
2980
Figure: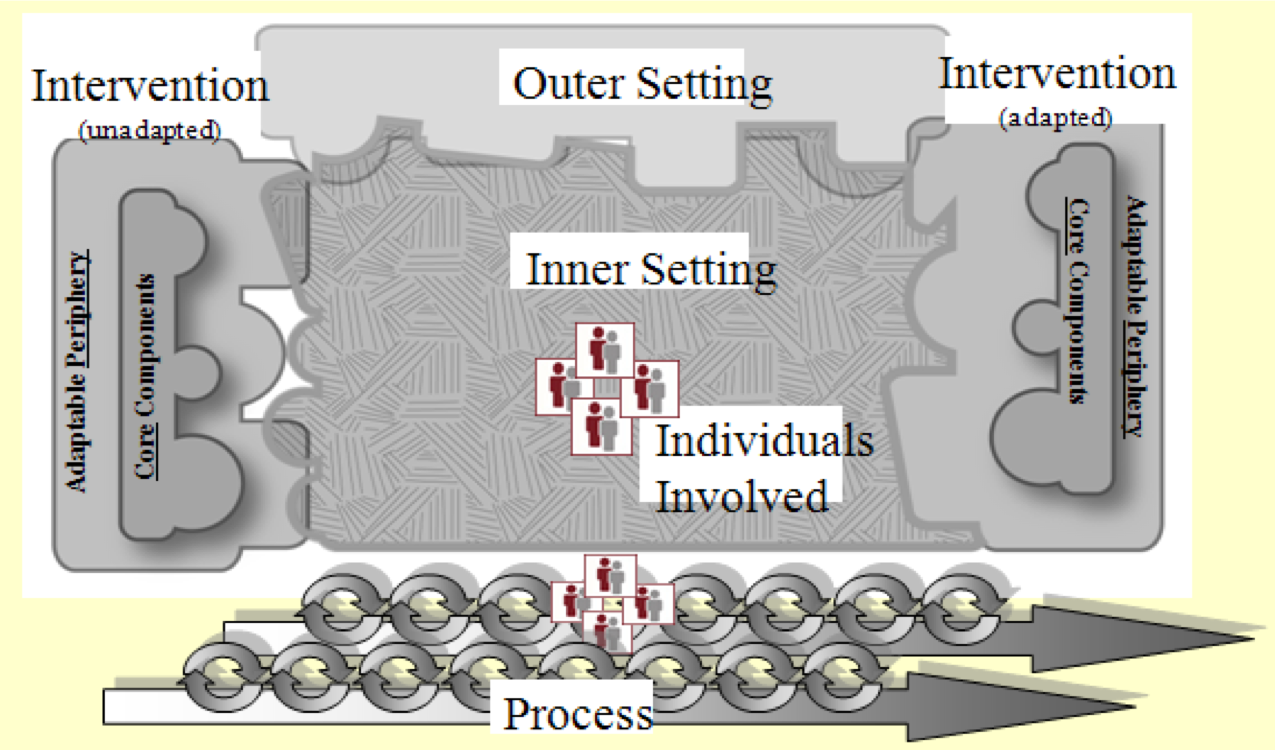 Field of Origin:

The field of study in which the model originated.
Health services
Practioner/Researcher:

Whether the model is for the use of practitioners and/or researchers.
Researcher
Constructs:

Name of the construct developed by classifying/aligning the elements abstracted from models.
Adaptation and evolution
,
Adopter/implementer/decision maker characteristics
,
Champion/field agent
,
Communication
,
Communication channels
,
Compatibility
,
Complexity
,
Context – Inner setting
,
Cost
,
Engagement
,
Evaluation
,
Implementation
,
Innovation characteristics
,
Knowledge and Knowledge Synthesis
,
Readiness
,
Trialability
,
Patient/target audience characteristics and needs
,
Process
,
Relative advantage
,
Stakeholders
Website:

Website.
https://cfirguide.org/
Citations:

The original publication(s) of the model.
Damschroder LJ, Aron DC, Keith RE, Kirsh SR, Alexander JA, Lowery JC. Fostering implementation of health services research findings into practice: a consolidated framework for advancing implementation science. Implement Sci 2009;4:50.
Examples:

Citations of studies that have used the model as an outline for their study.
Hartzler B, Lash SJ, Roll JM. Contingency management in substance abuse treatment: a structured review of the evidence for its transportability. Drug Alcohol Depen 2011;122(1-2):1-10.
Lash SJ, Timko C, Curran GM, McKay JR, Burden JL. Implementation of evidence-based substance use disorder continuing care interventions. Psychol Addict Behav 2011;25(2):238-51.
Sarkies M, Long JC, Pomare C, Wu W, Clay-Williams R, Nguyen HM, Francis-Auton E, Westbrook J, Levesque JF, Watson DE, Braithwaite J. Avoiding unnecessary hospitalisation for patients with chronic conditions: a systematic review of implementation determinants for hospital avoidance programmes. Implement Sci. 2020 Oct 21;15(1):91. doi: 10.1186/s13012-020-01049-0.
Sorensen JL, Kosten T. Developing the tools of implementation science in substance use disorders treatment: applications of the consolidated framework for implementation research. Psychol Addict Behav 2011;25(2):262.
Williams EC, Johnson ML, Lapham GT, et al. Strategies to implement alcohol screening and brief intervention in primary care settings: a structured literature review. Psychol Addict Behav 2011;25(2):206-14.
[Health Equity] Gordon EJ, Lee J, Kang RH, Caicedo JC, Holl JL, Ladner DP, Shumate MD. A complex culturally targeted intervention to reduce Hispanic disparities in living kidney donor transplantation: an effectiveness-implementation hybrid study protocol. BMC Health Serv Res. 2018 May 16;18(1):368. doi: 10.1186/s12913-018-3151-5.