Exploration, Preparation, Implementation, Sustainment (EPIS) model (Conceptual Model of Evidence-based Practice Implementation in Public Service Sectors)
D and/or I:

The focus on dissemination and/or implementation activities. D-only focuses on an active approach of spreading evidence-based interventions to target audience via determined channels using planned strategies. D=I, D>I, and I>D means there is some focus on both dissemination and implementation. I-only focuses on process of putting to use or integrating evidence-based interventions within a setting.
I-Only
Socio-Ecological Levels:

The level of the framework at which the model operates. Individual includes personal characteristics; Organization includes hospitals, service organizations, and factories; Community includes local government and neighborhoods; System includes hospital systems and government; Policy includes changes in policy.
Individual
Organization
Community
System
Policy
Number of Times Cited:

The # of times the original publication for the model was cited as indicated by Google Scholar since 2016.
898
Figure: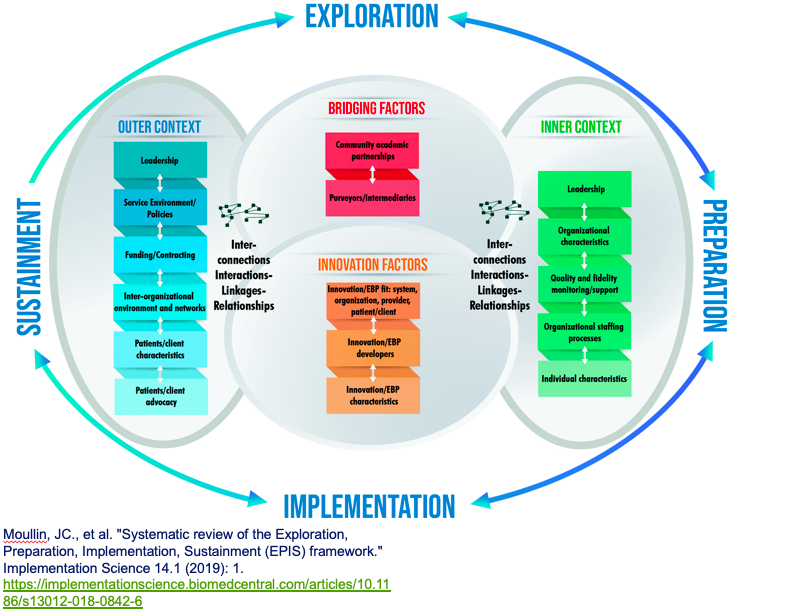 Field of Origin:

The field of study in which the model originated.
Public sector services
Practitioner/Researcher:

Whether the model is for the use of practitioners and/or researchers.
Researcher
Rating:

These are ratings given by users of the site.
Constructs:

Name of the construct developed by classifying/aligning the elements abstracted from models.
Acceptability/feasibility
,
Adopter/implementer/decision maker characteristics
,
Adoption
,
Awareness
,
Development of an Intervention
,
Barriers and facilitators
,
Champion/field agent
,
Communication channels
,
Fidelity
,
Fit
,
Implementation
,
Knowledge and Knowledge Synthesis
,
Pre-implementation
,
Maintenance and Sustainability
,
Stakeholders
,
Strategies
Website:

Website.
https://episframework.com/
Citations:

The original publication(s) of the model.
Aarons GA, Hurlburt M, Horwitz SM. Advancing a conceptual model of evidence-based practice implementation in public service sectors. Admin Policy Mental Health 2011;38(1):4–23. Moullin JC, Dickson KS, Stadnick NA, Rabin B, Aarons GA. Systematic review of the Exploration, Preparation, Implementation, Sustainment (EPIS) framework. Implement Sci. 2019 Jan 5;14(1):1.
Examples:

Citations of studies that have used the model as an outline for their study.
Aarons GA, Fettes DL, Sommerfeld DH, Palinkas LA: Mixed methods for implementation research: Application to evidence-based practice implementation and staff turnover in community-based organizations providing child welfare services. Child Maltreatment 2012, 17:67-79.
Aarons GA, Green AE, Trott E, Willging C, Torres EM, Ehrhart M, Roesch SC. The roles of system and organizational leadership in system-wide evidence-based intervention sustainment: A mixed-method study. Adm Policy Ment Hlth 2016, 43:991-1008.
Brookman-Frazee L, Chlebowski C, Suhrheinrich J, et al. Characterizing Shared and Unique Implementation Influences in Two Community Services Systems for Autism: Applying the EPIS Framework to Two Large-Scale Autism Intervention Community Effectiveness Trials. Adm Policy Ment Health. 2020;47(2):176-187. doi:10.1007/s10488-019-00931-4
Idalski Carcone A, Coyle K, Gurung S, et al. Implementation Science Research Examining the Integration of Evidence-Based Practices Into HIV Prevention and Clinical Care: Protocol for a Mixed-Methods Study Using the Exploration, Preparation, Implementation, and Sustainment (EPIS) Model. JMIR Res Protoc. 2019;8(5):e11202. Published 2019 May 23. doi:10.2196/11202
Stadnick NA, Meza RD, Suhrheinrich J, et al. Leadership profiles associated with the implementation of behavioral health evidence-based practices for autism spectrum disorder in schools. Autism. 2019;23(8):1957-1968. doi:10.1177/1362361319834398