RE-AIM 1.0 Framework
D and/or I:

The focus on dissemination and/or implementation activities. D-only focuses on an active approach of spreading evidence-based interventions to target audience via determined channels using planned strategies. D=I, D>I, and I>D means there is some focus on both dissemination and implementation. I-only focuses on process of putting to use or integrating evidence-based interventions within a setting.
D=I
Socio-Ecological Levels:

The level of the framework at which the model operates. Individual includes personal characteristics; Organization includes hospitals, service organizations, and factories; Community includes local government and neighborhoods; System includes hospital systems and government; Policy includes changes in policy.
Individual
Organization
Community
Number of Times Cited:

The # of times the original publication for the model was cited as indicated by Google Scholar since 2016.
1360
Figure: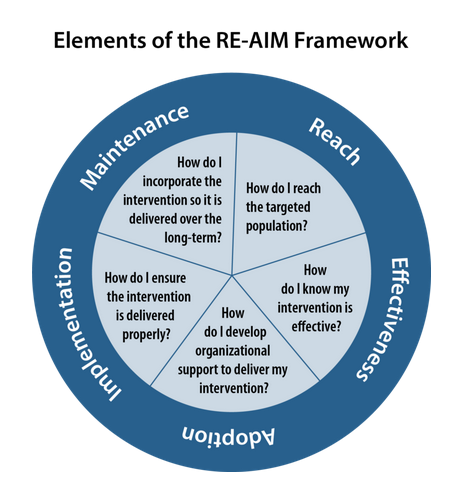 Field of Origin:

The field of study in which the model originated.
Public Health
Rating:

These are ratings given by users of the site.
Constructs:

Name of the construct developed by classifying/aligning the elements abstracted from models.
Adoption
,
Implementation
,
Innovation characteristics
,
Maintenance and Sustainability
,
Reach
,
Stakeholders
Website:

Website.
http://www.re-aim.org/
Citations:

The original publication(s) of the model.
Glasgow RE, Vogt TM, Boles SM. Evaluating the public health impact of health promotion interventions: the RE-AIM framework. Am J Publ Health 1999;89(9):1322–7.
Examples:

Citations of studies that have used the model as an outline for their study.
Aittasalo M, Miilunpalo S, Ståhl T, Kukkonen-Harjula K. From innovation to practice: initiation, implementation and evaluation of a physician-based physical activity promotion programme in Finland. Health Promot Int 2007;22(1):19.
De Meij JSB, Chinapaw MJM, Kremers SPJ, Jurg ME, Van Mechelen W. Promoting physical activity in children: the stepwise development of the primary school-based JUMP-in intervention applying the RE-AIM evaluation framework. Brit J Sports Med 2010;44(12):879-87.
Glasgow RE, Nelson CC, Strycker LA, King DK. Using RE-AIM metrics to evaluate diabetes self-management support interventions. Am J Prev Med 2006;30(1):67-73.
Van Acker R, De Bourdeaudhuij I, De Cocker K, Klesges L, Cardon G. The impact of disseminating the whole-community project 'Äò10,000 Steps': a RE-AIM analysis. BMC Publ Health 2011;11(1):3.