Promoting Action on Research Implementation in Health Services (PARIHS)
D and/or I:

The focus on dissemination and/or implementation activities. D-only focuses on an active approach of spreading evidence-based interventions to target audience via determined channels using planned strategies. D=I, D>I, and I>D means there is some focus on both dissemination and implementation. I-only focuses on process of putting to use or integrating evidence-based interventions within a setting.
I-Only
Socio-Ecological Levels:

The level of the framework at which the model operates. Individual includes personal characteristics; Organization includes hospitals, service organizations, and factories; Community includes local government and neighborhoods; System includes hospital systems and government; Policy includes changes in policy.
Individual
Organization
Community
Number of Times Cited:

The # of times the original publication for the model was cited as indicated by Google Scholar since 2016.
307
Figure: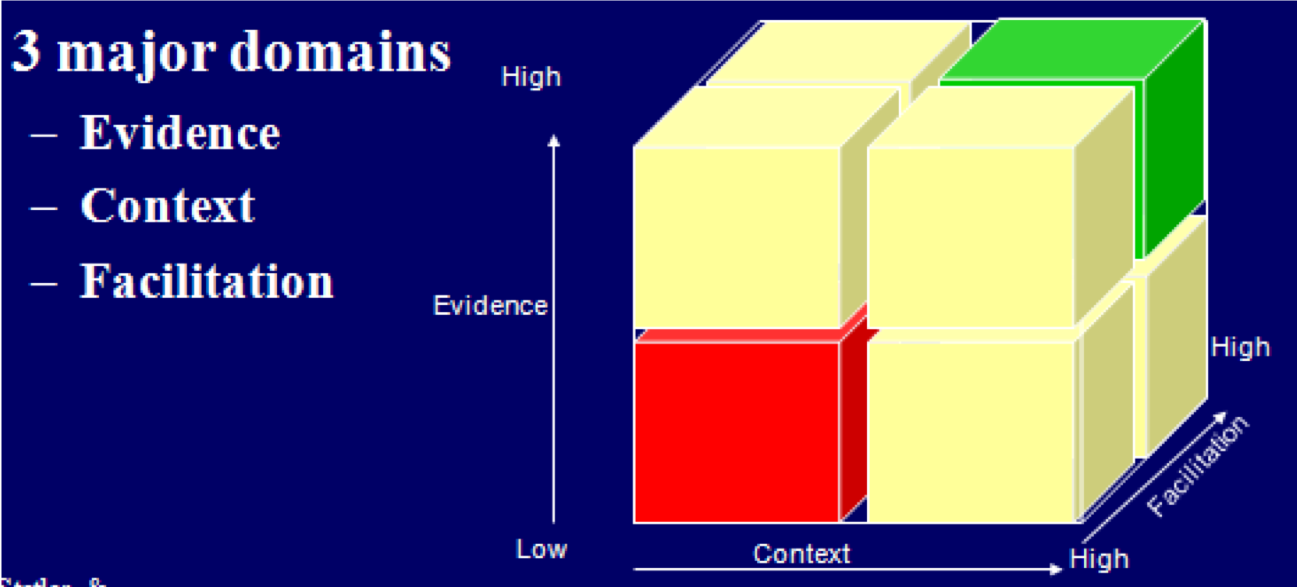 Field of Origin:

The field of study in which the model originated.
Health services
Constructs:

Name of the construct developed by classifying/aligning the elements abstracted from models.
Adoption
,
Context – Inner setting
,
Implementation
,
Innovation characteristics
,
Knowledge and Knowledge Synthesis
,
Readiness
,
Stakeholders
Citations:

The original publication(s) of the model.
Kitson A, Harvey G, McCormack B. Enabling the implementation of evidence based practice: a conceptual framework. Qual Health Care 1998;7(3):149. Kitson AL, Rycroft-Malone J, Harvey G, McCormack B, Seers K, Titchen A. Evaluating the successful implementation of evidence into practice using the PARiHS framework: theoretical and practical challenges. Implemen Sci 2008;3:1. Rycroft-Malone J. The PARIHS framework—a framework for guiding the implementation of evidence-based practice. J Nurs Care Qual 2004;19(4):297–304.
Examples:

Citations of studies that have used the model as an outline for their study.
Bansod VA. Promoting action on research implementation in health services (PARIHS) framework: application to the Fracture Fighters Program. [dissertation] Toronto: University of Toronto, 2009.
Bergström, A. Evidence and context : knowledge translation for newborn health in low-income settings. https://openarchive.ki.se/xmlui/handle/10616/41138
Conklin J, Kothari A, Stolee P, Chambers L, Forbes D, Le Clair K. Knowledge-to-action processes in SHRTN collaborative communities of practice: a study protocol. Implem Sci 2011;6(1):12.
Cummings GG, Estabrooks CA, Midodzi WK, Wallin L, Hayduk L. Influence of organizational characteristics and context on research utilization. Nurs Res 2007;56(S4):S24.
Estabrooks CA, Squires JE, Cummings GG, Teare GF, Norton PG. Study protocol for the translating research in elder care (TREC): building context—an organizational monitoring program in long-term care project (project one). Implem Sci2009;4(1):52.
Helfrich CD, Damschroder LJ, Hagedorn HJ, et al. A critical synthesis of literature on the promoting action on research implementation in health services (PARIHS) framework. Implemen Sci 2010;5(1):82.
Roohi G, Mahmoodi G, Khoddam H. Knowledge implementation in health care management: a qualitative study. BMC Health Serv Res. 2020 Mar 6;20(1):188. doi: 10.1186/s12913-020-5043-8. PMID: 32143627
Seers K, Rycroft-Malone J, Cox K, Crichton N, Edwards RT, Eldh AC, Estabrooks CA, Harvey G, Hawkes C, Jones C, Kitson A, McCormack B, McMullan C, Mockford C, Niessen T, Slater P, Titchen A, van der Zijpp T, Wallin L. Facilitating Implementation of Research Evidence (FIRE): an international cluster randomised controlled trial to evaluate two models of facilitation informed by the Promoting Action on Research Implementation in Health Services (PARIHS) framework. Implement Sci. 2018 Nov 16;13(1):137. doi: 10.1186/s13012-018-0831-9
[Health Equity] Gordon EJ, Lee J, Kang RH, Caicedo JC, Holl JL, Ladner DP, Shumate MD. A complex culturally targeted intervention to reduce Hispanic disparities in living kidney donor transplantation: an effectiveness-implementation hybrid study protocol. BMC Health Serv Res. 2018 May 16;18(1):368. doi: 10.1186/s12913-018-3151-5.