"4E" Framework for Knowledge Dissemination and Utilization
D and/or I:

The focus on dissemination and/or implementation activities. D-only focuses on an active approach of spreading evidence-based interventions to target audience via determined channels using planned strategies. D=I, D>I, and I>D means there is some focus on both dissemination and implementation. I-only focuses on process of putting to use or integrating evidence-based interventions within a setting.
D=I
Socio-Ecological Levels:

The level of the framework at which the model operates. Individual includes personal characteristics; Organization includes hospitals, service organizations, and factories; Community includes local government and neighborhoods; System includes hospital systems and government; Policy includes changes in policy.
Individual
Organization
Community
Number of Times Cited:

The # of times the original publication for the model was cited as indicated by Google Scholar since 2016.
14
Figure: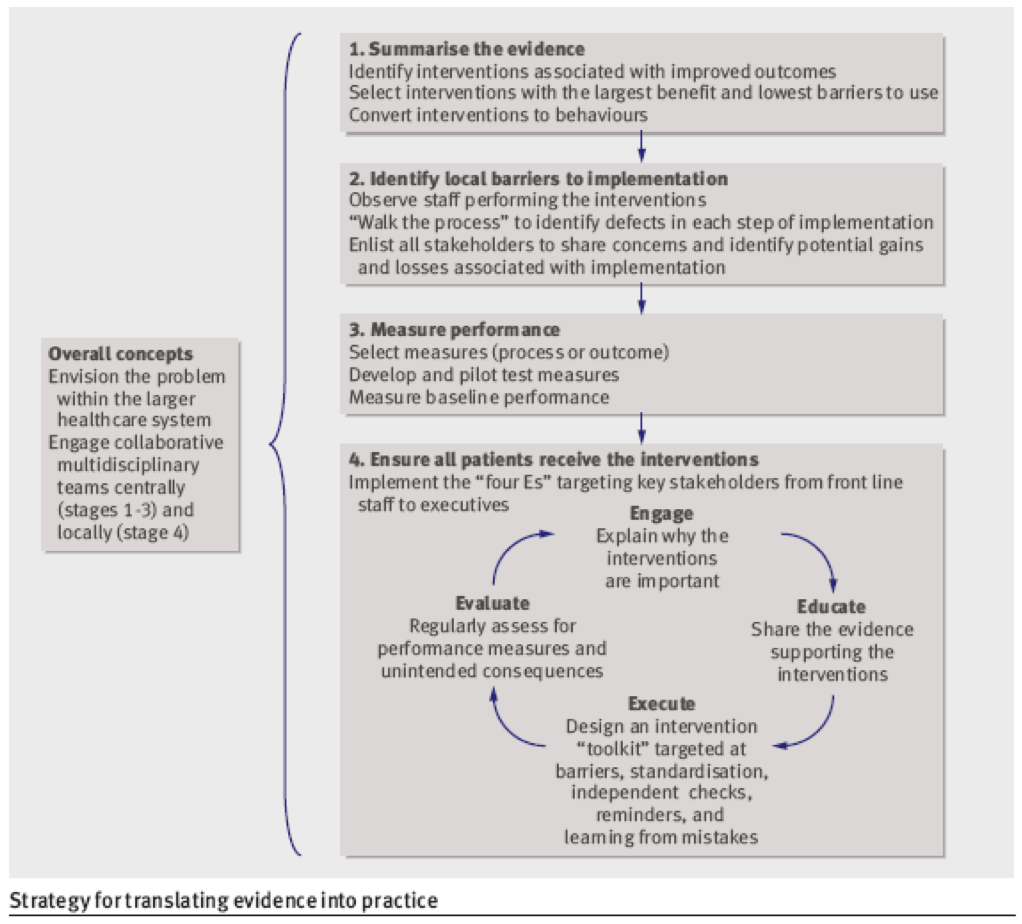 Field of Origin:

The field of study in which the model originated.
Aging and mental health
Practitioner/Researcher:

Whether the model is for the use of practitioners and/or researchers.
Researcher and Practitioner
Rating:

These are ratings given by users of the site.
Website:

Website.
https://cpr.bu.edu/develop/4e-framework/
Citations:

The original publication(s) of the model.
Farkas M, Anthony WA. Bridging science to service: using Rehabilitation Research and Training Center program to ensure that research-based knowledge makes a difference. J Rehabil Res Dev 2007;44(6):879–92. Farkas M, Jette AM, Tennstedt S, Haley SM, Quinn V. Knowledge dissemination and utilization in gerontology: an organizing framework. Gerontologist 2003;43(S1):S47.
Examples:

Citations of studies that have used the model as an outline for their study.
Albert D, Fortin R, Lessio A, Herrera C, Riley B, Hanning R, Rush B. Strengthening chronic disease prevention programming: the Toward Evidence-Informed Practice (TEIP) Program Assessment Tool. Prev Chronic Dis. 2013 May 30;10:E88. doi: 10.5888/pcd10.120106
Alvaro C, Lyons RF, Warner G, Hobfoll SE, Martens PJ, Labonté R, Brown RE. Conservation of resources theory and research use in health systems. Implement Sci. 2010 Oct 20;5:79. doi: 10.1186/1748-5908-5-79.
Etkin CD, Prohaska TR, Harris BA, Latham N, Jette A. Feasibility of implementing the Strong for Life program in community settings. Gerontologist 2006;46(2):284.
Evans JM, Kiran PR, Bhattacharyya OK. Activating the knowledge-to-action cycle for geriatric care in India. Health Res Policy Sys 2011;9(1):42.
Forhan M, Law M. An evaluation of a workshop about obesity designed for occupational therapists. Can J Occup Ther 2009;76(5):351-8.
Peterson EW, McMahon E, Farkas M, Howland J. Completing the cycle of scholarship of practice: a model for dissemination and utilization of evidence-based interventions. Occup Ther Health Care 2005;19(1-2):31-46.